Spread the Word about SLCC – On the Web and In-World!
The Second Life Community Convention is a great place to meet new residents, but it's even better when you get to spend time with friends and associates you already know from in world! Help us spread the word to your networks, groups and communities using the tools provided here.
Conference Hashtag: slcc10
Please be sure to tag your pictures, videos, tweets, plurks, blog posts anything else related to the Second Life Community Convention with the conference hashtag. This will help build an excellent archive of materials for future reference, as well as connect Second Life residents who won't be able to attend in Boston. The pound sign (#) is most commonly used on Twitter, for other typical tagging uses, the pound sign is optional.
SLCC on Social Media Sites
Connect with the Second Life Community Convention through a variety of social media sites, or submit your photos, videos, or other related content for other participants to view! Know of other social media platforms we should be using but don't have listed? Use the contact form on this website to send your suggestions!
Twitter
Follow SLCC on Twitter at http://twitter.com/slcc and be sure to add the hashtag #slcc10 to the end of your tweets so other conference attendees can keep in touch!
Flickr
Be sure to join the SLCC group at http://www.flickr.com/groups/482091@N21/ and tag your photos with "slcc" and "slcc10″. You can also submit any photos you upload to Flickr to the group pool after you join. The easiest way to do this from your Flickr account is to click "Organize & Create" at the top of the screen, then select your SLCC related photos and submit them to the group pool for display on this website, in-world kiosks, slideshows, and other places on the web!
Facebook
Visit us on Facebook, join the group or become a fan!
YouTube
New this year, SLCC has its own YouTube channel at http://www.youtube.com/user/slconvention. Tag your videos with "slcc10″ and we'll be sure to add your videos to the SLCC channel!
In World
There are a number of ways to connect with SLCC in world – please share this information with your communities, groups, and networks!
In-World Headquarters
Visit the Second Life Community Convention Headquarters in-world to pick up signs, textures, and other materials that you can send out to your groups or post at your own in-world locations. HQ is under construction! SLurl coming soon!
Join the SLCC Group
If you have a group slot available, join the group "SLCC Announcement List" to receive notices about planning meetings and events, network with other attendees, and to keep in touch with the planning team.
Subscribe-o-Matic
No group slots left? No problem! Visit the SLCC Subscribe-o-Matic station to sign up for updates that won't take up precious room in your groups! Subscribe-o-Matic will be available at our in-world headquarters, which is under construction. More info and SLurl coming soon!
On the Web
Everyone can use a little link love and we would sure appreciate your help getting the word out about SLCC! Use the tools provided below to let your blog readers know that you're attending SLCC.
Blogging
Will you be blogging about SLCC? If so, be sure to link back to a post or page on our site, http://slconvention.org, or use our feed at http://feeds.feedburner.com/slccfeed to import content to your site. Be sure to tag your posts with "slcc10″ too!
Badges & Linkable Graphics
Feel free to use any of the graphics below in your communications about SLCC, either by downloading the files (right click – save as..) or by linking to the image URL (right click – copy image URL).
Be sure to link the image to the registration page at http://slconvention.org/registration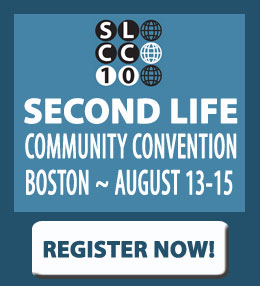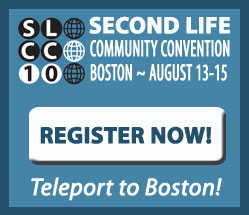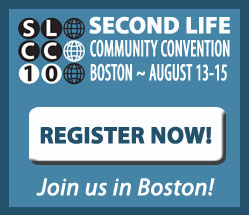 Widgets
Calendar Widget with Date
<div style="width:195px; text-align:center;" ><iframe src="http://www.eventbrite.com/calendar-widget?eid=422456579″ frameborder="0″ height="407″ width="220″ marginheight="0″ marginwidth="0″ scrolling="no" ></iframe><div style="font-family:Helvetica, Arial; font-size:10px; padding:5px 0 5px; margin:2px; width:195px; text-align:center;" ><a style="color:#ddd; text-decoration:none;" target="_blank" href="http://www.eventbrite.com/features?ref=ecal" >Sell Tickets Online</a><span style="color:#ddd;" > through </span><a style="color:#ddd; text-decoration:none;" target="_blank" href="http://www.eventbrite.com?ref=ecal" >Eventbrite</a></div></div>
Countdown in Days Widget
<div style="width:195px; text-align:center;" ><iframe src="http://www.eventbrite.com/countdown-widget?eid=422456579″ frameborder="0″ height="333″ width="220″ marginheight="0″ marginwidth="0″ scrolling="no" ></iframe><div style="font-family:Helvetica, Arial; font-size:10px; padding:5px 0 5px; margin:2px; width:195px; text-align:center;" ><a style="color:#ddd; text-decoration:none;" target="_blank" href="http://www.eventbrite.com/features?ref=ecount" >Online event registration</a><span style="color:#ddd;" > for </span><a style="color:#ddd; text-decoration:none;" target="_blank" href="http://slcc2010.eventbrite.com?ref=ecount" >Second Life Community Convention 2010</a></div></div>
Register for SLCC 2010 Button
<a href="http://slcc2010.eventbrite.com?ref=ebtn" target="_blank"  ><img border="0″ src="http://www.eventbrite.com/registerbutton?eid=422456579″ alt="Register for Second Life Community Convention 2010 in Boston, MA  on Eventbrite" /></a>