Robert Bloomfield (SL: Beyers Sellers) of Metanomics gives the keynote address at SLCC 2008.
(Image credit: rikomatic)
Track Sessions & Schedule
SATURDAY, AUGUST 14, 2010
A View on IBM's Use of Virtual Worlds
Joseph Jaquinta (SL: Jaymin Carthage)
Saturday, 9:30AM to 10:30AM – White Hill Room
IBM is a big, diverse company with a broad international employee and customer base. It has engaged Virtual Worlds in a number of different ways; as products it sells, as services it uses internally, and for recreation. Join one employee for a walk through some of the high points and low points of this journey.
Joseph Jaquinta is an average IBM employee. He does not work on Virtual Worlds as part of his day-job, but has been a volunteer on many projects, in several worlds, both internal and external for several years. He does not represent IBM's official position on anything; just an enthusiast's viewpoint.
Avatar Analytics
Mary Ellen Gordon (SL: Pebbles Hannya)
Saturday, 11:00am to NOON- White Hill Room
There's an old saying that you can't manage what you don't measure, but what metrics make the most sense to measure in virtual worlds? This session will cover the pros and cons of various metrics that can be used to assess the attitudes and behavior of SL participants and discuss the metrics that are most appropriate for different situations. Audience members who have experience applying different metrics within SL or using analytical information derived from SL to make decisions will be encouraged to share their own observations about the types of data that have been most useful to them.
Mary Ellen Gordon is one of the owners of Market Truths, which is a RL market research company that has also been doing research in SL since 2006. Mary Ellen has extensive experience doing academic research as well as commercial research for clients in the US, UK, and New Zealand. She also has extensive experience practicing and teaching marketing, and has a PhD, MBA, and BS in marketing.
Doing Business in Virtual Worlds: Virtual Relationships, Boundaries and Community
Joan Combs Durso (SL: Devon Alderton), Janalee Redmond (SL: Jennette Forager), Patricia Murphy (SL: Pamala Clift)
Saturday, 2:30PM to 3:30PM – White Hill Room
Among the newcomers from the business and academic communities who we orient to SL, most express gratitude for a frank discussion of the professional promise and personal pitfalls of virtual worlds. This session offers advice on organizational approaches to handling the sensitive issue of virtual world relationships and boundary setting with employees new to virtual worlds.

Joan Combs Durso is an economist with research interests in pharmacoeconomics and prehospital care. In SL, she is the Volunteer Coordinator for Metanomics, a co-host of Immersion: Tools.Jam and is a Project Manager for the Epoch Institute. Janalee S. Redmond has been a Dressage coach and horse trainer since age 15. She immediately recognized the tremendous potential of Immersive Environments and established the Epoch Institute to facilitate education and use. She is also the Community Manager for Metanomics. Patricia Murphy works at a university and as a consultant for university instructors to bring classes into SL. She delivered the "Shh, The Realities of Virtual Relationships" presentation at SLCC 2009 but will be attending SLCC 2010 virtually.
When Worlds Collide: Mashing Up Real World, Virtual Worlds and Social Worlds
Linda Zimmer (SL: Znetlady Isbell), Aliza Sherman (SL: Cybergrrl Oh), Bernhard Drax (SL: Draxtor Despres)
Saturday, 4:00PM to 5:00PM – White Hill Room
Immersive virtual worlds are compelling and captivating. Social media is dynamic and ubiquitous. How can we integrate and leverage the uniqueness of Second Life and power of social media by melding them into a total "virtual environment." We'll look at best and highest use for various forms of SL/Social media, best practices, and techniques for mashing media together.
Linda Zimmer modernizes marketing and business strategies for the digital age. She is a long-time web, digital media strategist and virtual world enthusiast. Aliza Sherman is a social media innovator and commentator. She is author of 7 books including The Everything Blogging Book, Streetwise Ecommerce, and PowerTools for Women in Business. Bernhard Drax is an award-winning SL machinimist and reporter on social and political issues, as well as a RL blogger, and composer for TV and film. His machinima series for the MacArthur philanthropy project was nominated for Best Series at the 2008 NYC machinima festival and he was awarded the "Every Human Has Rights" media award for his report on the "Virtual Gitmo" build in Second Life."
SUNDAY, AUGUST 15, 2010
The World In 4D – Mr. Square Visits Virtual Reality
James Neville (SL: Sitearm Madonna), Teddi Davis (SL: Teddi Shamrock), John Mahon (SL: Ham Rambler), SL: Jean Munro, Karin Willison (SL:Ayesha Lytton), Dr. William Prensky (SL: Chant Newall)
Sunday, 9:30AM to 10:30AM – White Hill Room
This presentation will show you "the fourth dimension of virtual reality." The movie Avatar was a spectacular introduction to the idea of virtual environments, but we still don't realize how difficult virtual reality is for people to grasp, including its own advocates. We need a deeper perception of what's going on, a deeper understanding of the new dimension that digital virtual environments have made available.Seemingly different achievements in the fields of business, music, tourism, arts are in fact unified when looked at from a "fourth dimension" with respect to virtual reality. While we think we know what "3D Web" means, in fact we are still missing the point.
James Neville (SL: Sitearm Madonna) is Strategist and Expeditor for Virtual Worlds Projects. Showcase projects include Dublin Virtually Live, Solution Provider Conference, and SL Live Radio. Teddi Davis: Owner, The Exchange Tavern; Editor, Free Play Virtually Live; John Mahon: Pilot, Astraeus Airlines; Owner, Dublin Virtually Live; Jean Munro: Music Director, St. Theresa's; Actor, Musician; Karin Willison: Owner, Solace Beach Estates; Community Manager; Dr. William Prensky: CTO, FutureWork Institute.
Teaching Operations Management Using Second Life
Peggy D. Lee (SL: Linda Sautereau)
Sunday, 11:00AM to 12:00PM – White Hill Room
This session will discuss the intersection of business and education, using the presenter's experiences teaching Operations Management to working professionals pursuing MBA degrees. She will present the student project, discuss pedagogical issues related to the use of SL in graduate management education and implications for corporate training, executive education, continuing education and distance learning. The session is informed by the results of a survey administered to students following the course in which SL was used.
Peggy D. Lee is a Professor at the Indiana University Kelley School of Business Indianapolis (KSBI), teaching Operations Management, Supply Chain Management, and Procurement at the undergraduate and graduate levels, and Chairperson for Undergraduate Programs at KSBI. She is also co-owner of Nat's Jazz Club in SL.
Second Life as a Media Platform
Pooky Amsterdam
Sunday, 2:30PM to 3:30PM – White Hill Room
Digital media and the expansion of video content offers opportunity which Second Life can meet through its platform. This presentation will discuss the future of interactive media including Social TV.
Pooky Amsterdam, CEO of PookyMedia is one of Second Life's most prolific producers. Using Second Life as a media platform is the basis of her business.
Positioning Second Life Content for Real Life Audiences
Wiz Nordberg, Peggy Sheehy (SL: Maggie Marat), Doug Thompson (SL: Dusan Writer)
Sunday, 4:00PM to 5:00PM – White Hill Room
For creative individuals and teams, Second Life is an environment that excels in unleashing creative potential in art, music, entertainment, and education. But what happens when you want to take your work to the next level, reaching out into real-world audiences and mass-markets where people are less familiar with Second Life? This panel of experts takes a practical and hard-hitting look at the opportunities and challenges of reaching out of Second Life to larger markets.
Wiz Nordberg is the CEO of Treet TV and founder of the original SLCN, the first "virtual TV network" in Second Life. Currently a media specialist at Suffern Middle School, in 2006, Peggy Sheehy established the first school in Teen Second Life, Ramapo Islands, which hosts 2400 students and teachers. Doug Thompson is the CEO of Remedy Communications, which owns Metanomics, the leading source of insight into the serious uses of virtual world technologies and how our lives online are influenced by policy, governance and economics.
About the Track
The Business & Enterprise track includes speakers and activities that educate and promote interaction between members of the extended Second Life business network. This network of people includes third party developers working with Second Life, private entrepreneurs using Second Life as a source of income, and corporations and organizations using Second Life for various purposes.
Track Leader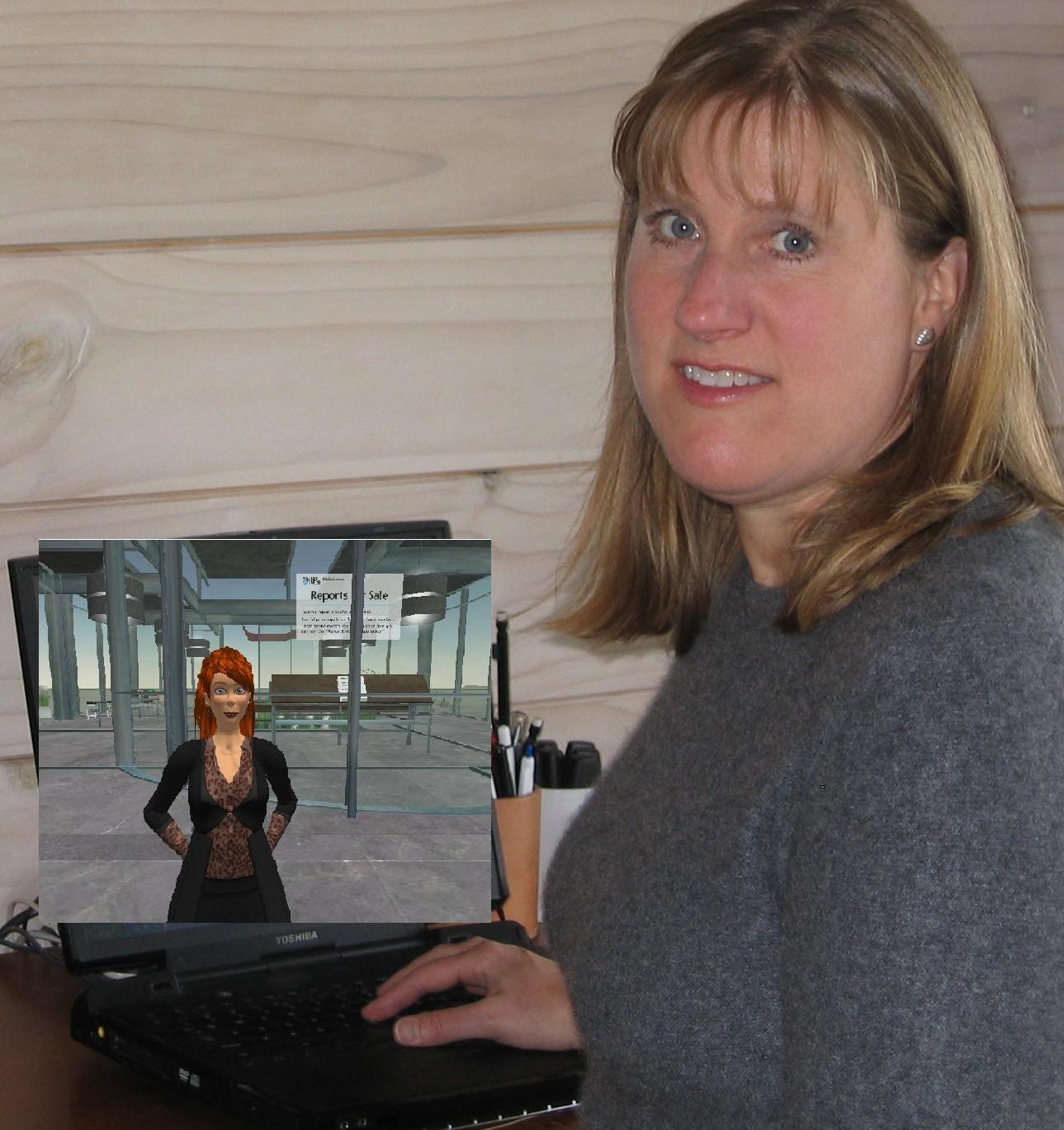 Mary Ellen Gordon (SL: Pebbles Hanya) has deep connections in the Second Life business community through her work with Market Truths, a company that does market research in and about virtual worlds. She has been a frequent guest speaker at virtual world conferences and at in-world events including Metanomics, Smarter Technology, Train for Success, Life 2.0, and SL Business Communicators. Her company produces a series of reports about different aspects of Second Life including reports on Real Life Brands in Second Life, Psychographics and Media Consumption (of SL users), and reports on the Second Life employment, entertainment, wearables, and real estate markets.