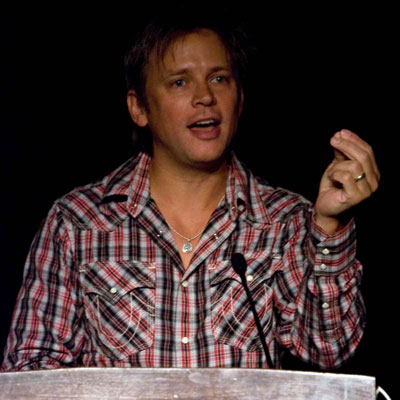 Saturday AM Keynote Speaker: Philip Rosedale (SL: Philip Linden)
Saturday, 8/14 from 8AM to 9AM EDT
Philip recently returned as interim CEO after Mark Kingdon stepped down in July, and we expect that he'll address the company's future direction and Linden Lab's "return to the basics" of improving the core Second Life experience. In a recent post on the Second Life blogs, Philip talked frankly about addressing Resident's concerns. "We need to get back to being the first to invent and deliver the solutions that evolve virtual worlds," said Rosedale, "We are still at the beginning of a huge market." Rosedale's speech will be delivered in world and simultaneously webcast to attendees of the Second Life Community Convention in Boston on Saturday morning.
Virtual World visionary Philip Rosedale founded San Francisco-based Linden Lab in 1999, and has since seen Linden Lab grow as a privately held and profitable business to include more than 300 globally distributed employees. As a pioneer in the virtual worlds industry, Rosedale is actively involved in the strategy, development and design of Linden Lab's products. Known for his entrepreneurial approach to new technologies, his introduction to the computer industry can be traced to his starting a network software company at the age of 17. Rosedale holds a BS degree in Physics from the University of California at San Diego and is now the Chairman of the Board and Interim CEO for Linden Lab.
"Rezzing Prims and Painting the Future" Doug Thompson (SL: Dusan Writer)
Saturday, 8/14 from 1PM to 2PM EDT
Second Life gets one thing absolutely right: its ability to paint a picture of the future. Through Second Life, we begin to understand how our lives will evolve and change because of technology; the promise and peril of increased virtuality; and the larger implications of an individual's ability to rez a prim. Drawing from lessons and discussions with leading thinkers, this presentation will take a rapid tour through how Second Life is informed by (and informs) disciplines as diverse as game design and theory, architecture, organizational development, innovation, spirituality, content creation, commerce, governance and branding. As the pace of technology continues to accelerate, how can Second Life continue to be a source of rich value, connections and insights and is there a continued role in this changing landscape for the act of rezzing a prim?
Doug Thompson is CEO of Remedy Communications, a full service agency providing brand strategy, training, education, content services and creative to Fortune 500 companies, cause marketers, and the military. Remedy delivers programs across traditional and digital media, and is a leading agency for virtual world development, mobile technology, and social media. Remedy also owns Metanomics, the leading source of insight into the serious uses of virtual world technologies and how our lives online are influenced by policy, governance and economics. With over 20 years of brand strategy, market research, advertising, and digital media experience, Thompson produced award winning video titles on behalf of Fortune 500 companies that including Glaxo SmithKline and Pfizer, and helped launch a half-dozen Internet properties during the early days of the Web. Thompson also blogs about immersive media at Dusan Writer's Metaverse.
"Pioneers in Virtual Worlds: Your Time Is Always Now" John Lester (SL: Pathfinder Lester)
Sunday, 8/15 from 8AM to 9AM EDT
Platforms for creativity and community will always arise, grow and change over time. Regardless of the nature of any specific platform, it's the users of those platforms, specifically people with pioneering spirits and creative ideas, who drive innovation within the platform as well as the inevitable development of new platforms. In this keynote, John will talk about pioneers in Virtual Worlds, exploring their role in a constellation of available tools for creative expression and communication. He will discuss why community building is critical to the evolution of any creative platform and why cultural understanding is the most important factor for success that needs to be cultivated by both platform creators and users. New challenges always create new opportunities, and John's keynote will highlight why the time of pioneers in Virtual Worlds is…and always will be…*now.*
John Lester worked at Linden Lab from 2005 to 2010, where he was commonly known as "Pathfinder." While at Linden Lab, John acted as a general strategist and product expert to help customers using Second Life for teaching, academic and healthcare research, medical education, simulation, and scientific visualization. He also served as "Lead Evangelist in Market Development," broadly exploring and cultivating innovation at the intersection of emerging markets in Second Life such as education, healthcare, enterprise, government and entertainment. Before working at Linden Lab, John was the Information Systems Director for the Department of Neurology at Massachusetts General Hospital, and as a Research Associate in Neurology at Harvard Medical School. John is currently exploring opportunities to help organizations understand and cultivate innovation at the intersection of virtual worlds, online communities, education and creative expression.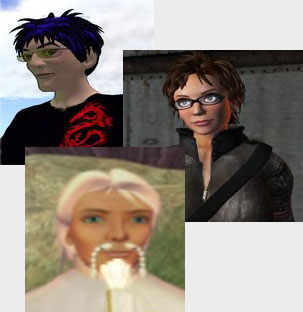 "The Second Life Viewer: What's Next?"
Kent Quirk (SL: Q Linden), Scott Lawrence (SL: Oz Linden), and Sarah Hutchinson (SL: Esbee Linden)
Sunday, 8/15 from 1PM to 2PM EDT
Linden Lab spent the better part of the last two years working heads down on Viewer 2. The focus was on creating a Viewer that would be easier for new users to adopt. It has become clear, however, that this design did not meet the needs of an important fraction of our existing Resident community. We're now embarking on a new, more open and collaborative approach. The people leading this effort will explain what, why, and how in a special panel keynote session.
Kent Quirk (Q Linden) is an Executive Director at Linden Lab. During three years at Linden Lab, his roles have included software development on the viewer, managing the Viewer Sustaining Engineering team, and heading up the development teams for both Viewer 1.23 and Viewer 2.1. In more than 25 years of working in software engineering, he's led many projects related to computer games, visual programming, 3D art, and test automation. When he's not at work, he's probably either cooking or riding a bike.
Sarah Hutchinson (Esbee Linden) is a Product Manager at Linden Lab. She is a long-time Resident with experience building and scripting, and was active in the Mentor program during its tenure. Her most recent job as Interactive Lead at a small start-up drew her even closer to Second Life where she worked with small to mid-size companies teaching them how to leverage the power of virtual worlds to change the way they do business. Outside of work, Sarah enjoys character design and illustration, video games, playing guitar, hiking, cycling, and of course, Second Life!
Scott Lawrence (Oz Linden) is the Director of Open Development at Linden Lab. A long time open source user and developer, he's come to virtual world development by climbing up from low level drivers through network and transport protocols, HTTP, and SIP. He's authored and contributed to a number of standards in the IETF, W3C, and other industry consortia. In RL, he plays pool, has three dogs, and rides an electric skateboard.